Contact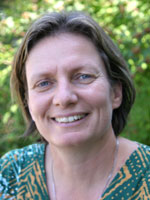 Schneider Monika
Activity areas
Group lead Agroforestry and cacao
Agricultural research for development and poverty alleviation, with current focus on cocoa in agroforestry systems
Low input agriculture
Plant production
Auditing and certification according to organic standards
Institutional building
Market development
Project management
Latin America, Malaysia, Eastern Europe
Training / professional career
Since 2003 at FiBL as project manager
1995 - 2003 Program officer in the NGO Swiss Labour Assistance (Schweizerisches Arbeiterhilfswerk, now Solidar Switzerland), responsible for the development cooperation program in Central America (Nicaragua and El Salvador). Main subjects: Business and service development of agricultural cooperatives, land rights, sustainable resource management, organic coffee production and commercialisation, credit systems, gender work and empowerment of women, fight for violence free life for women and children, support of training programs of unions in human -, civil and workers rights. Humanitarian aid and reconstruction after Hurricane Mitch.
1997 - 2008 auditor for FiBL inspection service and later for Bio.inspecta: inspection of farms in Switzerland, governmental regulations for agro-environmental programs, animal welfare, organic production and private standards of Bio Suisse and KAG.
1990 - 1994 Expert in a Swiss Development and Cooperation (SDC) project at the governmental agricultural extension service in Fianarantsoa, Madagascar. Main subjects: participative approach of the extension service, training and capacity building in sustainable resource management, erosion, watershed management, agroforestry.
1987 - 1988 staff member of NGO Servicios Multiples de Technologias Apropiadas (SEMTA) in La Paz, Bolivia. Main subjects: Training and advisory work for horticulture, potatoes (seed funds), fodder corps in the Andes (Altiplano).
2002 - 2004 Training in mediation, (Modulare Ausbildung Mediation, 6 Wochen) Swiss Development and Cooperation (SDC) and Inmedio
2000 : Conduire une demarche combinée ISO 14001 et 9001:2000, Universities of Bern, Freiburg, Neuenburg
1990 - 2001 Various trainings linked to project management, international development cooperation, agricultural advisory and institutional building, normally one week, various organisations
1990 Watershed management and reduction of soil erosion, 5 weeks, Centre National d'Etudes Agronomiques des Régions Chaudes, France
1987 - 1989 postgraduate studies in international development cooperation (NADEL) at the Swiss Federal Institute of Technology (ETH) Zürich.
1979 - 1985 Studies in Agronomy with specialisation in plant production (Master) at the Swiss Federal Institute of Technology (ETH) Zürich.
Membership in advisory bodies / other activities
Member of the project commission "Brücke Le Pont"
Publications